POLARIC™-500c6F
Add to Wishlist
Add to Compare
| Code No. | Product | Size | Price |
| --- | --- | --- | --- |
| GC101 | POLARIC™-500c6F | 1 μg×10 | $ 580.00 |
| GC1011 | POLARIC™-500c6F | 1 μg×5 | $ 270.00 |
a – A Fluorescent dye stains 2 organelle – Low Toxicity – High Retentive in Cell
Optical properties of POLARIC™-500c6F

Abs max 480 nm

Flu max 592 nm

Absorption and emission spectra of POLARIC™-500c6 in aqueous SDS solution

Structure
POLARIC™-500c6F is solvatochromic dye developed for cell staining. Solvatochromic dye means the dyes changing fluorescent colors by environment such as localizing to organelle, etc. POLARIC™-500c6F is most appropriate for time-lapse observation because it is held in the cell long time, compere to other dyes. And, due to low toxicity, it is suitable to observe living cells (see Fig.2 MTS assay). POLARIC™-500c6F changes emission spectra 550~630nm dynamically in each environment by a single excitation around 500nm. In case of using argon-ion laser, use either 488nm or 514nm. Emission is detect between 550-630nm. The change of emission peak is due to difference in organella. POLARIC™ -500c6 stains plasma membrane(green) and mitochondoria(orange). See spectra Fig.1.
A Fluorescent dye stains 2 organelle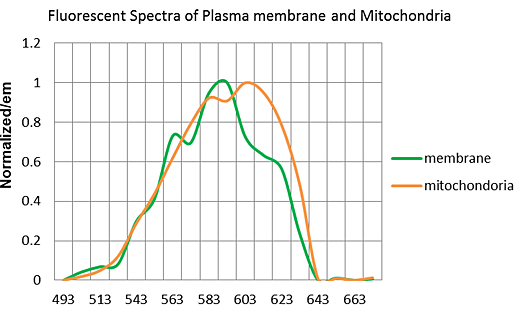 Fig 1. Fluorescet spectra of plasma membrane and mitochondria stained by POLARIC™-500c6F in HeLa cell. Spectral data were acquired from spectral image examined by confocal laser-scanning microscope. This suggests the chromatic change caused by environment of organelle, plasma membrane and mitochondria.
Low Toxicity

Fig 2. MTS assay. To compare the cytotoxicity of POLARIC™-500c6F with other dyes in HeLa cells, relative cell viability was determined by MTS assay. Toxicity of POLARIC™-500c6F is lower than CellMask®DeepRed, LysoTracker®Blue-White, and more or less the same to other dyes. CellMask®, MitoTracker® and LysoTracker® are registered trademarks of LifeTechnologies Company.
High Retentive in Cell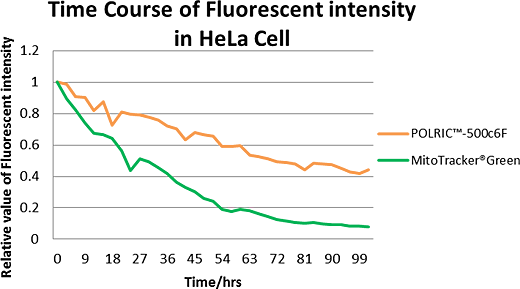 Fig 3. Time course of fluorescent intensity in HeLa cell stained by POLARIC-500c6F and MitoTracker®Green.

The time which fluorescent intensity decreased to 50%; POLARIC™-500c6F is about 70.6 hours MitoTracker®Green is about 28.6 hours. The fluorescent retention time of POLARIC ™-500c6F is longer than that of MitoTracker®Green. Thus, it is suggested that POLARIC™-500c6F is retained long-term in HeLa cell compared with MitoTracker®Green
Mitochondrial imaging of POLARIC™-500c6F by Structured Illumination Microscope(Nikon, N-SIM)
Fig.4 HeLa cell was stained with POLARIC™-500c6F and photographed with Structured Illumination Microscope(Nikon, N-SIM). Left : Photographed with conventional epi-illumination type fluorescence Right : Photographed with 3D-SIM mode Ex:488nm, Em:510-550nm. Taking picture with SIM whose spatial resolution is about twice(about 100nm) of conventional microscope enables observing microstructure of mitochondria(right).
POLARIC™ is developed by Koji Yamada (associated professor of Graduate School of Environmental Science, The Hokkaido University), Global Sapporo Bio cluster-S, Regional Innovation Strategy Support Program, Project for Developing Innovation Systems, The Ministry of Education, Culture, Sports, Science & Technology. GORYO Chemical, Inc. is assigned of the patent of POLARIC™ from Hokkaido University and we manufacture it.
Reference
Masahito Tanaka, Takeomi Kikuchi, Hiroyuki Uno, Keisuke Okita, Toshiko Kitanishi-Yumura, Shigehiko Yumura (2017)
Scientific Reports 7: 12970, DOI: 10.1038/s41598-017-13438-5
Omura R, Nagao K, Kobayashi N, Ueda K, Saito H.(2014)
Direct detection of ABCA1-dependent HDL formation based on lipidation-induced hydrophobicity change in apoA-I.
J Lipid Res. 2014 Nov;55(11):2423-31.
Maishi N, Kawamoto T, Ohga N, Yamada K, Akiyama K, Yamamoto K, Osawa T, Hida Y, Hida K. (2013)
Application of POLARIC™ fluorophores in an in vivo tumor model.
Oncol Rep. 2013 30(4):1695-1700.
Sang-Hyun Son, Yutaka Yamagishi, Michiko Tani, Maiko Yuasa, Koji Yamada (2011)
Spectral Shifts of the Environment-sensitive Fluorophore POLARIC™ in Heterogeneous Interfaces
Chem. Lett. 40 (9):989-991