Frequently Asked Questions
If you have not found an answer to one of your questions
please don't hesitate to contact us.
Q & A on AcidiFluor™ ORANGE
Q & A on AcidiFluor™ ORANGE-NHS
The labeling yield can be determined by using the following formula. Dividing the concentration of AcidiFluor™ ORANGE-NHS by the concentration of target protein, you can estimate the number of AcidiFluor™ ORANGE molecule binding to a target protein molecule.

A544, 280 : Absorbance of labeled protein at 544 nm or 280 nm
CF : Correction Factor (0.12)
e AcidiFluor ORANGE-NHS : Molar absorbance coefficient of AcidiFluor™ ORANGE-NHS (80,000)
e protein : Molar absorbance coefficient of target protein (ex. 216,000 for IgG)
We recommend the use of purified antibody or protein. If you want to label a mixture of proteins, please remove contaminating materials by ultrafiltration or gel filtration. Especially, contamination of amine (ex. Tris) causes the decrease of labeling efficiency.
Notably, if excess amount of dye binds to target protein (7-8 molecules per protein molecule), it incurs saturation of fluorescent signal or denaturation of target protein.
I'm sorry but AcidiFluor™ ORANGE-NHS is only for 'live' cell imaging. It is because acidic environment in the vesicles is ruined by fixing process.
Q & A on CaSiR-1™ / CaSiR-1™ AM
You can detect Fe(II) ion after fixation, if Fe(II) ion is not washed out. Or you can fix after staining of living cells with FeRhoNox-1. Please test the compatibility of FeRhoNox-1 with your cells and fixing protocol, because in some conditions, localization of Fe(II) might not be preserved, or fluorescence intensity might be decreased.
This protocol is for the staining of HeLa cells. Add 2 μM NiSPY-3 to the culture medium (DMEM + 8% FBS + 100 units/mL penicillin + 100 mg/mL streptomycin) with 0.01% DMF and 0.01% Cremophor EL as cosolvent, and culture for 20 minutes. Then wash the cells with HBSS 2 times and observe by fluorescent microscopy. Use blue excitation filter set or 488 nm laser excitation. Post stimulation by peroxynitrite may increase the intracellular peroxynitrite concentration and increase in the fluorescence of NiSPY-3.
From a vial of MAR (25 μg) , ~43 μL of 1 mM stock solution can be made. If you use 1 mL of 1 μM MAR solution for one assay, you can perform ~40 assays per one vial.
MAR, a material with no fluorescence fluoresces in hypoxic environment. Because this reaction is irreversible, you can dissociate cells by trypsin and dilute cells into normal buffers or medium without decreasing the MAR's fluorescence.
Yes, mild fixation does not bleach the fluorescence, however, strong fixation condition may alter the intracellular localization of MAR or decrease the fluorescence. Please test the fixation condition in your cells and conditions.
We did not observe cytotoxic effects of KP-1 in 1μM, a concentration typically used. We tested 48-hour culture in the presence of 1 μM KP-1 and found it to not affect the cell viability.
Q & A on GlycoYELLOW-βGal
You may use a similar procedure to X-gal staining for fixed cell samples, because GlycoYELLOW-βGal is also a substrate for β-galactosidase (lacZ reporter)
We confirmed that fluorescence of GlycoYELLOW-βGal observed in live cells does not diminish by the normal process of fixation. Please refer the following Application Notes for details.
Strong fixation conditions may alter the intracellular localization or may decrease the fluorescence. Please test the fixation condition in your cells and conditions.
Yes, using GlycoYELLOW-βGal, you can detect enhancement of β-galactosidase activity caused by senescence (SA-βGal).
If physiological β-Gal activity in lysosomes is detected with GlycoYELLOW-βGal, then you may use bafilomycin A1 for alkalization of lysosomes and inhibit physiological β-Gal activity. You may not need to use alkalization reagent if you do not detect physiological β-Gal.
Q & A on Fluorescence observation
It is unaffected in most cases. Especially in case of ROS detection probes, ROS increases under starvation for certain types of cells. It would be better to add the fluorescence probe into the culture medium, not the buffer such as HBSS. However, components (such as phenol red which is used as an indicator) in the medium might influence the detection. Therefore, please follow the information in an instruction manual or literature.
It is not always necessary to replace the solution before observation, in case of high-efficiency fluorescence probes which do not emit fluorescence light before reacting with target substances. The signal could be detected even when the unreacted probes remain in the culture medium. However, it might be necessary to replace the solution to remove fluorescence substances, especially when the medium containing phenol red interferes optically with the fluorescent observation. (Please refer the below illustration.) In this case, by using the medium which does not contain phenol red, it is able to observe without the solution replacement. It is recommended to determine the solution condition, based on preliminary experiments with the target cells and the medium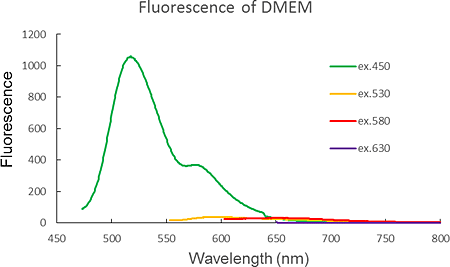 The fluorescence spectra of DMEM medium when exciting at different wavelengths (slit width 20 nm). Fluorescence emission from green to red were observed when exciting with the blue light.
Usually, glass bottom dish is made for fluorescence microscopy observation. Use glass bottom dish that fit the stage of your microscope. In some cases, you may use multi-well plates instead of glass-bottom dish.