Diaminofluorescein-2 diacetate (DAF-2 DA)
Out of stock
Add to Wishlist
Add to Compare
当ページに掲載している製品・サービスに関し、ご購入希望ならびご興味のある方は、こちらまでお問い合わせください。

| 型番 | 製品名 | 容量 | 希望小売価格(円) |
| --- | --- | --- | --- |
| SK1002-01 | Diaminofluorescein-2 diacetate (DAF-2 DA) | 1mg | ¥30,000 |
Diaminofluorescein-2 diacetate(DAF-2 DA)の特長
細胞膜透過性があり、組織や培養細胞中のNOをリアルタイムに観察できます。
細胞内に長時間局在化できます。
蛍光顕微鏡にて簡単に測定できます。
可視光励起なので、細胞にダメージを与えません。
高感度かつ特異的に測定できます。
測定原理
DAF-2 DAが細胞膜を透過し、細胞内のエステラーゼにより加水分解され、細胞膜を透過しにくいDAF-2になります。
DAF-2のアミノ基がNOと反応し、励起波長495nmで励起すると波長515nmの緑色の蛍光を発します。
内容
DAF-2 DA 1mg (in DMSO 0.45mL)
C24H18N2O7 Mw:446.4
試薬の調製例
本品は約5mmol/Lになっております。
使用時に中性のバッファー等で500倍程度に希釈してお使いください。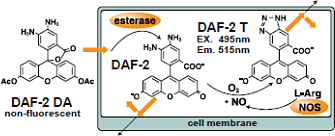 参考文献
T.Uchida, Y.Sakashita, K. Kitahata, Y.Yamashita, C.Tomida, Y.Kimori, A.Komatsu, K.Hirasaka, A.Ohno, R.Nakao, A.Higashitani, A.Higashibata, N.Ishioka, T.Shimazu, T. Kobayashi, Y.Okumura, I.Choi, M.Oarada, E.M.Mills, S.Teshima-Kondo, S.Takeda, E. Tanaka, K.Tanaka, M.Sokabe, and T.Nikawa(2018)
Am J Physiol Cell Physiol. In Press.
リンク先:https://doi.org/10.1152/ajpcell.00184.2017
T. Tomita, A. Hirayama, H. Matsui, and K. Aoyagi (2017)
Evid Based Complement Alternat Med in press
Wang P, Du Y, Li Y, Ren D, Song CP.
Plant Cell. 2010 Sep;22(9):2981-98. doi: 10.1105/tpc.109.072959. Epub 2010 Sep 24.
Bryan NS, Grisham MB.
Free Radic Biol Med. 2007 Sep 1;43(5):645-57. Epub 2007 Apr 29.
Gao YJ, Lu C, Su LY, Sharma AM, Lee RM.
Br J Pharmacol. 2007 Jun;151(3):323-31. Epub 2007 Mar 26.
Iwakiri Y, Satoh A, Chatterjee S, Toomre DK, Chalouni CM, Fulton D, Groszmann RJ, Shah VH, Sessa WC.
Proc Natl Acad Sci U S A. 2006 Dec 26;103(52):19777-82. Epub 2006 Dec 14.
Yamamoto K, Sokabe T, Matsumoto T, Yoshimura K, Shibata M, Ohura N, Fukuda T, Sato T, Sekine K, Kato S, Isshiki M, Fujita T, Kobayashi M, Kawamura K, Masuda H, Kamiya A, Ando J.
Nat Med. 2006 Jan;12(1):133-7. Epub 2005 Dec 4.
Kadowaki H, Nishitoh H, Urano F, Sadamitsu C, Matsuzawa A, Takeda K, Masutani H, Yodoi J, Urano Y, Nagano T, Ichijo H.
Cell Death Differ. 2005 Jan;12(1):19-24.
Corpas FJ, Barroso JB, Carreras A, Quirós M, León AM, Romero-Puertas MC, Esteban FJ, Valderrama R, Palma JM, Sandalio LM, Gómez M, del Río LA.
Plant Physiol. 2004 Sep;136(1):2722-33. Epub 2004 Sep 3.
Lamotte O, Gould K, Lecourieux D, Sequeira-Legrand A, Lebrun-Garcia A, Durner J, Pugin A, Wendehenne D.
Plant Physiol. 2004 May;135(1):516-29. Epub 2004 Apr 30.
Huang X, Stettmaier K, Michel C, Hutzler P, Mueller MJ, Durner J.
Planta. 2004 Apr;218(6):938-46. Epub 2004 Jan 10.
Correa-Aragunde N, Graziano M, Lamattina L.
Planta. 2004 Apr;218(6):900-5. Epub 2004 Jan 10.
Tarpey MM, Wink DA, Grisham MB.
Am J Physiol Regul Integr Comp Physiol. 2004 Mar;286(3):R431-44.
Neill, SJ; Desikan, R; Hancock, JT
NEW PHYTOLOGIST 2003 Jul:159(1):11-35.
Espey MG, Thomas DD, Miranda KM, Wink DA.
Proc Natl Acad Sci U S A. 2002 Aug 20;99(17):11127-32. Epub 2002 Aug 12.
Sakihama Y, Nakamura S, Yamasaki H.
Plant Cell Physiol. 2002 Mar;43(3):290-7.
Fulton D, Fontana J, Sowa G, Gratton JP, Lin M, Li KX, Michell B, Kemp BE, Rodman D, Sessa WC.
J Biol Chem. 2002 Feb 8;277(6):4277-84. Epub 2001 Nov 29.
Petroff MG, Kim SH, Pepe S, Dessy C, Marb?n E, Balligand JL, Sollott SJ.
Nat Cell Biol. 2001 Oct;3(10):867-73.
Montagnani M, Chen H, Barr VA, Quon MJ.
J Biol Chem. 2001 Aug 10;276(32):30392-8. Epub 2001 Jun 11.
Shintani S, Murohara T, Ikeda H, Ueno T, Sasaki K, Duan J, Imaizumi T.
Circulation. 2001 Feb 13;103(6):897-903.
Foissner I, Wendehenne D, Langebartels C, Durner J.
Plant J. 2000 Sep;23(6):817-24.
Kuo RC, Baxter GT, Thompson SH, Stricker SA, Patton C, Bonaventura J, Epel D.
Nature. 2000 Aug 10;406(6796):633-6.
Murohara T, Ikeda H, Duan J, Shintani S, Sasaki Ki, Eguchi H, Onitsuka I, Matsui K, Imaizumi T.
J Clin Invest. 2000 Jun;105(11):1527-36.
Lin S, Fagan KA, Li KX, Shaul PW, Cooper DM, Rodman DM.
J Biol Chem. 2000 Jun 16;275(24):17979-85.
Choi YB, Tenneti L, Le DA, Ortiz J, Bai G, Chen HS, Lipton SA.
Nat Neurosci. 2000 Jan;3(1):15-21.
Wingrove JA, O'Farrell PH.
Cell. 1999 Jul 9;98(1):105-14.
Kojima H, Nakatsubo N, Kikuchi K, Urano Y, Higuchi T, Tanaka J, Kudo Y, Nagano T.
Neuroreport. 1998 Oct 26;9(15):3345-8.
小島宏建、長野哲雄、実験医学、Vol.17, No.8 946-950(1999)
Kojima, H., Nakatsubo, N., Kikuchi, K., Kawahara, S., Kirino, Y.,Nagoshi,H., Hirata, Y., and Nagano, T. Anal. Chem.70 2446-2453, 1998.
長野哲雄、小島宏建:現代化学、9月号、No.342.23-30(1999)
S. Kitajima, K. L. Lee, H. Hikasa, W. Sun, R. Y.-J. Huang, H. Yang, S. Matsunaga,
T. Yamaguchi, M. Araki, H. Kato, L. Poellinger (2017)
Oncotarget 8: 114481–114494 DOI: 10.18632/oncotarget.23010
T.Uchida, Y.Sakashita, K. Kitahata, Y. Yamashita, C.Tomida, Y.Kimori, A. Komatsu, K.Hirasaka, A. Ohno, R. Nakao, A.Higashitani, A.Higashibata, N.Ishioka, T. Shimazu, T. Kobayashi, Y. Okumura, I. Choi, M.Oarada, E. M. Mills, S.Teshima-Kondo, S. Takeda, E. Tanaka, K. Tanaka, M.Sokabe, and T.Nikawa (2018)
Am J Physiol Cell Physiol. In Press.