MAR
Add to Wishlist
Add to Compare
| Code No. | Product | Size | Price |
| --- | --- | --- | --- |
| A101-01 | MAR | 25μg×5 | $ 798.00 |
– For the study of cancer or ischemia –
Easily available for live-cell imaging
As sensitive as pimonidazole
Available for flow cytometry
Hypoxia in living tissue closely relates to a wide array of pathologies, including cancer and ischemia. When using with the existing hypoxia detection probe, pimonidazole, immunostaining is necessary, and the probe is only available for the fixed cells. However, live-cell imaging of hypoxia is easily available with MAR.
The feature of MAR
Fluorescent feature of MAR
Excitation wave length 498 nm
Fluorescent wave length 520 nm
Easily available for live-cell imaging

Fig. 1. Fluorescent imaging of A549 cell under the various concentration of oxygen.
Fluorescent intensity increased as content of oxygen decreased. Pimonidazole is used to be generally used for the detection of hypoxia, but cell fixation and immunostaining are necessary. However, fluorescent live-cell imaging of hypoxia is available only by addition of MAR to the living cells.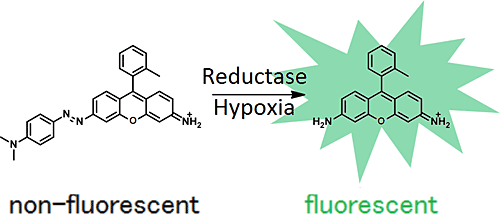 Fig. 2. Reduced reaction of MAR under hypoxia
Though MAR is non-fluorescent, reductive cleavage in the azo base of the probe occurs by the reductive enzyme under hypoxia, and 2Me RG is generated which makes bright green fluorescence.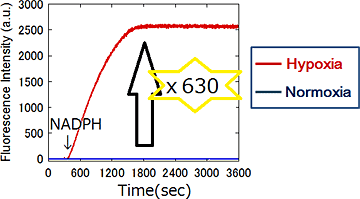 Fig. 3. Response to hypoxia in vitro.
50 µM NADPH was introduced to 5 µM MAR in the existence of rat liver microsomes, under hypoxia or normoxia. MAR was reduced only under hypoxia and made fluorescence over 100 times brighter.
As sensitive as pimonidazole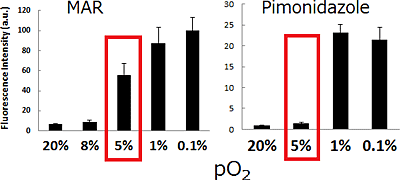 Fig. 4. Fluorescent intensity in A549 cell under hypoxia, stained by MAR or pimonidazole.
A549 cells were observed after stained by MAR or pimonidazole under the various concentrations of oxygen. While pimonidazole responded to the concentration of oxygen under the 1%, MAR responded to the oxygen concentration of about 5%.
Available for flow cytometry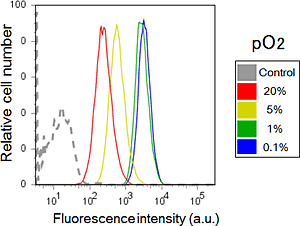 Fig. 5. Analysis by the flow cytometry of A549 cell stained by MAR under hypoxia.
A549 cells were analyzed by flow cytometry after incubation for 6 hours under the various oxygen concentrations and stained by 1 μM MAR. Fluorescent intensity increased as the oxygen concentration decreased, indicating that the probe is available for flow cytometry.
Application example
Available for the detection of hypoxia in tissue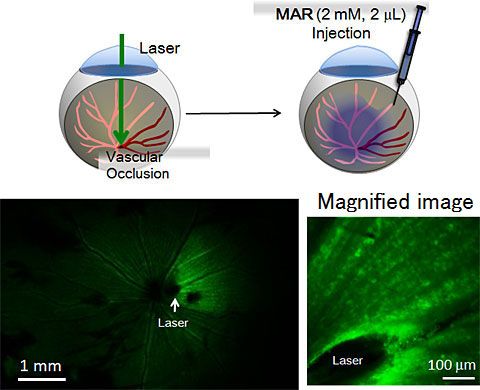 Fig. 6. Imaging of retinal artery occlusion in rat.
Retinal artery occlusion was occurred in rat retina by the laser irradiation and the fluorescent image was captured. Increase in the fluorescent intensity by MAR was observed specifically in the part of the retina in which occlusion and hypoxia were occurred. (Data were kindly offered by Prof. Toru Nakazawa, Dr. Yuji Tanaka and Dr. Satoshi Tsuda).
Reference
K. Sigmundsson, J. R.M. Ojala, M. K. Öhman, A. M. Österholm, A. Moreno-Moral, A. Domogatskaya, L. Y. Chong, Y. Sun, X. Chai, J. A. M. Steele, B. George, M. Patarroyo, A. S. Nilsson, S. Rodin, S. Ghosh, M. M. Stevens, E. Petretto, K. Tryggvason. (2018)
Matrix Biol.pii: S0945-053X(18)30052-0DOI: 10.1016/j.matbio.2018.03.018
H. Harada, Y. Tsuda, K. Yabuki, E. Shiba, K. Uchihashi, A. Matsuyama, Y. Fujino, T. Hachisuga, M. Hisaoka, (2018)
Lab. Invest. (in press) DOI: 10.1038/s41374-017-0020-5
Y. Tanaka, M. Nishikawa, Y. Mizukamia, K. Kusamorib, Y. Ogino, S.Nishimura, K. Shimizu, S. Konishi, Y. Takahashi, Y. Takakura
J Control Release. in press doi: 10.1016/j.jconrel.2017.12.006
Ravi Naik, Hyun Seung Ban, Kyusic Jang, Inhyub Kim, Xuezhen Xu, Dipesh Harmalkar, Seong-Ah Shin, Minkyoung Kim, Bo-Kyung Kim, Jaehyung Park, Bonsu Ku, Sujin Oh, Misun Won, and Kyeong Lee (2017)
J. Med. Chem., 60: 8631-8646, DOI: 10.1021/acs.jmedchem.7b01231
T. Nishikawa, Y. Tanaka,  K. Kusamori, N. Mizuno, Y. Mizukami, Y. Ogino,
K. Shimizu, S. Konishi, Y. Takahashi, Y. Takakura M. Nishikawa (2017)
Biotechnol. J. DOI: 10.1002/biot.201600513
Hyun Seung Ban, Xuezhen Xu, Kusik Jang, Inhyub Kim, Bo-Kyung Kim,
Kyeong Lee, Misun Won (2016)
PLoS One. ;11: e0162568
Hyun Seung Ban, Xuezhen Xu, Kusik Jang, Inhyub Kim, Bo-Kyung Kim, Kyeong Lee,
Misun Won (2016)
PLoS ONE 11:e0162568 DOI: 10.1371/journal.pone.0162568
W. Piao, S. Tsuda, Y. Tanaka, S. Maeda, F. Liu, S. Takahashi, Y. Kushida, T. Komatsu,
T. Ueno, T. Terai, T. Nakazawa, M. Uchiyama, K. Morokuma, T. Nagano, K. Hanaoka
Angew
Chem Int Ed 52 (49) 13028–13032, (2013)