ICG Near Infrared Fluorescent Dyes
~For in vivo imaging using near infrared fluorescent dyes~
Out of stock
Add to Wishlist
Add to Compare
Code No.
Product
Size
Price
Application & Note
A501-01
ICG-NHS ester
1 mg × 1
ask us
For in vivo fluorescent imaging. Labeling of antibodies by amide bonding.
Exmax / Emmax (nm): 790/830
A501-05
1 mg × 5
ask us
A501-10
1 mg × 10
ask us
A502-01
ICG maleimide
1 mg × 1
ask us
Labeling thiols of proteins with maleimide.
Exmax / Emmax (nm): 790/830
A502-05
1 mg × 5
ask us
A502-10
1 mg × 10
ask us
IM110
ICG CBT
1mg
$ 498.00
Labeling selectively cysteine residues in proteins or antibodies by cyanobenzothiazlole groups.
IM111
5mg
$ 1,880.00
IM112
10mg
ask us
IM113
ICG azide
1mg
$ 498.00
Labeling of antibodies or
other proteins through azide-alkyne
cycloaddition (click reaction.)
IM114
5mg
$ 1,880.00
IM115
10mg
ask us
A501-21
ICG-NHS ester labeling kit
5 times
ask us
ICG-NHS ester labeling kit provide a convenient means for labeling fluorescent probe to a small amount of antibody or protein (20–100 µg), and supply everything needed for labeling reactions. Exmax / Emmax (nm): 790/830
IM119
IR-820 NHS ester
1mg
$ 498.00
For in vivo fluorescent imaging. Labeling antibody by amide bond. Excitation/Emission maximum (nm):710/820
IM120
5mg
$ 1,130.00
IM121
10mg
ask us
IM125
IR-820 CBT
1mg
$ 498.00
Labeling selectively cysteine residues in proteins or antibodies by cyanobenzothiazlole groups.
IM126
5mg
$ 1,410.00
IM127
10mg
ask us
For Labeling with NHS esters, maleimides or through click reaction.
Labeling kits are available.
【Contract labeling service】 Products are synthesized in our lab in Japan.
NHS series (Most commonly used method for labeling)
Labeling of antibodies by amide bonding.
Labeling kits are available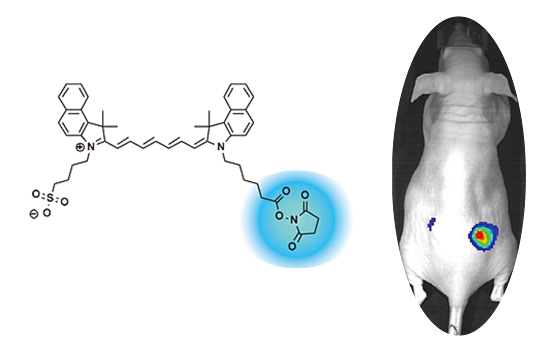 Maleimide series(Labeling the thiol groups of cysteine residues)
Labeling the thiol groups of cysteine residues.
All you have to do for the labeling is just mixing.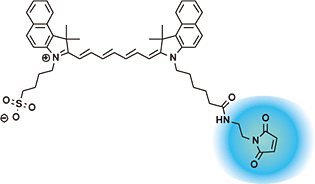 CBT series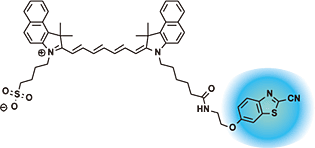 (Labeling of cysteine residues.)
Azide series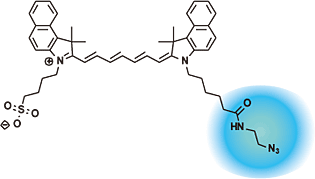 (Labeling easily through click reaction.)
Flow Chart of contract ICG-antibody labeling service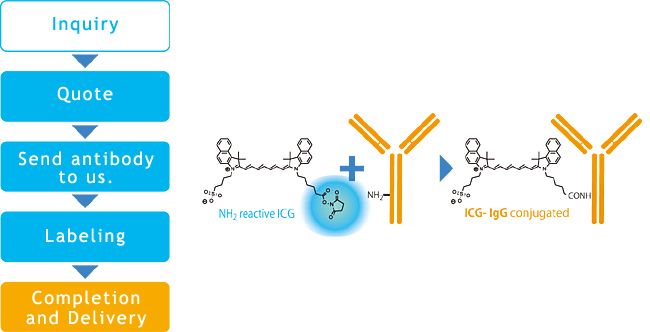 Procedure for ordering
Ask us to inquire about price and scheduling.
Filling out the application documents and sending them by FAX
Please download all application documents and fill out them. Send us the filled-out documents by FAX:+81-11-351-1822, before send us your sample.
Sending your sample
Send us your sample and application documents to the above address. Be sure to pack the sample carefully to avoid drying, leakage or corruption of the vial. The sample should reach us by a weekday morning.
Deliverables
Work report Final products of contracted work, such as purified antibodies.
Indocyanine Green Labeling Kit
Indocyanine Green-NHS (succinimidyl ester) is near-infrared fluorescent probe that binds to amino acid residues without any condensing agents. Not only proteins or antibodies but also oligo-nucleotide with amino acid at the end can be labeled. This kit contains reagents and tools that required for the labeling for five times with Indocyanine Green-NHS and purification. One package of Indocyanine Green-NHS is optimum for the labeling of 300 μg of proteins, such as IgG.
Contents of the kit

Indocyanine Green-NHS

× 5

Dimethylsulfoxide

500μL × 1

Reaction Buffer

5mL × 1

Washing Buffer

10mL × 1

Spin column for ultrafiltration

× 5
Labeling of antimicrobial peptide with NHS (Example)

Reference
Boudewijn E. Schaafsma, MD, J.Sven D. Mieog, MD, Merlijn Hutteman, MSc, Joost R. van der Vorst, MD, Peter J.K. Kuppen, PhD, Clemens W.G.M. Löwik, PhD, John V. Frangioni, MD, PhD, Cornelis J.H. van de Velde, MD, PhD, and Alexander L. Vahrmeijer, MD, PhD,* J Surg Oncol. 2011 Sep1; 104(3): 323-332., "The clinical use of indocyanine green as a near-infrared fluorescent contrast agent for image-guided oncologic surgery"
K. Sigmundsson, J. R.M. Ojala, M. K. Öhman, A. M. Österholm, A. Moreno-Moral, A. Domogatskaya, L. Y. Chong, Y. Sun, X. Chai, J. A. M. Steele, B. George, M. Patarroyo, A. S. Nilsson, S. Rodin, S. Ghosh, M. M. Stevens, E. Petretto, K. Tryggvason. (2018)
Matrix Biol.pii: S0945-053X(18)30052-0 DOI: 10.1016/j.matbio.2018.03.018
D. Matsuoka, H. Watanabe, Y. Shimizu, H. Kimura, Y. Yagi,R. Kawai, M. Ono, H. Saji (2018)
Bioorg. Med. Chem. In press DOI: 10.1016/j.bmc.2018.03.015