Diaminofluorescein-2 diacetate (DAF-2 DA)
Out of stock
Add to Wishlist
Add to Compare
| Code No. | Product | Size | Price |
| --- | --- | --- | --- |
| SK1002-01 | Diaminofluorescein-2 diacetate (DAF-2 DA) | 1mg | $ 522.00 |
Permeable through the cell membrane and real time observation of NO inside tissues or cultured cells is available.
Long time localization inside the cell.
Easily observed by a fluorescence microscopy.
Low damage to the cells because the reagent is excited by the visible light.
High sensitivity and selectivity.
Principle of the measurement
After the permeation through the cell membrane, Diaminofluorescein-2 diacetate (DAF-2 DA) is hydrolyzed by intracellular esterase to Diaminofluorescein-2 (DAF-2) which is unpermeable through the cell membrane. Amino groups of Diaminofluorescein-2 (DAF-2)capture NO, and the DAF-2 makes fluorescence of green light with wave length of 515 nm when it's excited by the light with wavelength of 495 nm.
Contents
DAF-2 DA 1mg (in DMSO 0.45mL)
C24H18N2O7 Mw:446.4
Preparation of the reagent
Density of the provided sample is 5mmol/L in DMSO. Dilute 500 times with neutral buffer before use.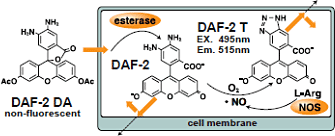 Reference
T. Tomita, A. Hirayama, H. Matsui, and K. Aoyagi (2017)
Evid Based Complement Alternat Med in press
Wang P, Du Y, Li Y, Ren D, Song CP.
Plant Cell. 2010 Sep;22(9):2981-98. doi: 10.1105/tpc.109.072959. Epub 2010 Sep 24.
Bryan NS, Grisham MB.
Free Radic Biol Med. 2007 Sep 1;43(5):645-57. Epub 2007 Apr 29.
Gao YJ, Lu C, Su LY, Sharma AM, Lee RM.
Br J Pharmacol. 2007 Jun;151(3):323-31. Epub 2007 Mar 26.
Iwakiri Y, Satoh A, Chatterjee S, Toomre DK, Chalouni CM, Fulton D, Groszmann RJ, Shah VH, Sessa WC.
Proc Natl Acad Sci U S A. 2006 Dec 26;103(52):19777-82. Epub 2006 Dec 14.
Yamamoto K, Sokabe T, Matsumoto T, Yoshimura K, Shibata M, Ohura N, Fukuda T, Sato T, Sekine K, Kato S, Isshiki M, Fujita T, Kobayashi M, Kawamura K, Masuda H, Kamiya A, Ando J.
Nat Med. 2006 Jan;12(1):133-7. Epub 2005 Dec 4.
Kadowaki H, Nishitoh H, Urano F, Sadamitsu C, Matsuzawa A, Takeda K, Masutani H, Yodoi J, Urano Y, Nagano T, Ichijo H.
Cell Death Differ. 2005 Jan;12(1):19-24.
Corpas FJ, Barroso JB, Carreras A, Quirós M, León AM, Romero-Puertas MC, Esteban FJ, Valderrama R, Palma JM, Sandalio LM, Gómez M, del Río LA.
Plant Physiol. 2004 Sep;136(1):2722-33. Epub 2004 Sep 3.
Lamotte O, Gould K, Lecourieux D, Sequeira-Legrand A, Lebrun-Garcia A, Durner J, Pugin A, Wendehenne D.
Plant Physiol. 2004 May;135(1):516-29. Epub 2004 Apr 30.
Huang X, Stettmaier K, Michel C, Hutzler P, Mueller MJ, Durner J.
Planta. 2004 Apr;218(6):938-46. Epub 2004 Jan 10.
Correa-Aragunde N, Graziano M, Lamattina L.
Planta. 2004 Apr;218(6):900-5. Epub 2004 Jan 10.
Tarpey MM, Wink DA, Grisham MB.
Am J Physiol Regul Integr Comp Physiol. 2004 Mar;286(3):R431-44.
Neill, SJ; Desikan, R; Hancock, JT
NEW PHYTOLOGIST 2003 Jul:159(1):11-35.
Espey MG, Thomas DD, Miranda KM, Wink DA.
Proc Natl Acad Sci U S A. 2002 Aug 20;99(17):11127-32. Epub 2002 Aug 12.
Sakihama Y, Nakamura S, Yamasaki H.
Plant Cell Physiol. 2002 Mar;43(3):290-7.
Fulton D, Fontana J, Sowa G, Gratton JP, Lin M, Li KX, Michell B, Kemp BE, Rodman D, Sessa WC.
J Biol Chem. 2002 Feb 8;277(6):4277-84. Epub 2001 Nov 29.
Petroff MG, Kim SH, Pepe S, Dessy C, Marb?n E, Balligand JL, Sollott SJ.
Nat Cell Biol. 2001 Oct;3(10):867-73.
Montagnani M, Chen H, Barr VA, Quon MJ.
J Biol Chem. 2001 Aug 10;276(32):30392-8. Epub 2001 Jun 11.
Shintani S, Murohara T, Ikeda H, Ueno T, Sasaki K, Duan J, Imaizumi T.
Circulation. 2001 Feb 13;103(6):897-903.
Foissner I, Wendehenne D, Langebartels C, Durner J.
Plant J. 2000 Sep;23(6):817-24.
Kuo RC, Baxter GT, Thompson SH, Stricker SA, Patton C, Bonaventura J, Epel D.
Nature. 2000 Aug 10;406(6796):633-6.
Murohara T, Ikeda H, Duan J, Shintani S, Sasaki Ki, Eguchi H, Onitsuka I, Matsui K, Imaizumi T.
J Clin Invest. 2000 Jun;105(11):1527-36.
Lin S, Fagan KA, Li KX, Shaul PW, Cooper DM, Rodman DM.
J Biol Chem. 2000 Jun 16;275(24):17979-85.
Choi YB, Tenneti L, Le DA, Ortiz J, Bai G, Chen HS, Lipton SA.
Nat Neurosci. 2000 Jan;3(1):15-21.
Wingrove JA, O'Farrell PH.
Cell. 1999 Jul 9;98(1):105-14.
Kojima H, Nakatsubo N, Kikuchi K, Urano Y, Higuchi T, Tanaka J, Kudo Y, Nagano T.
Neuroreport. 1998 Oct 26;9(15):3345-8.
Kojima, H., Nakatsubo, N., Kikuchi, K., Kawahara, S., Kirino, Y.,Nagoshi,H., Hirata, Y., and Nagano, T. Anal. Chem. 70 2446-2453, 1998.
S. Kitajima, K. L. Lee, H. Hikasa, W. Sun, R. Y.-J. Huang, H. Yang, S. Matsunaga,
T. Yamaguchi, M. Araki, H. Kato, L. Poellinger (2017)
Oncotarget 8: 114481–114494 DOI: 10.18632/oncotarget.23010
T.Uchida, Y.Sakashita, K. Kitahata, Y. Yamashita, C.Tomida, Y.Kimori, A. Komatsu, K.Hirasaka, A. Ohno, R. Nakao, A.Higashitani, A.Higashibata, N.Ishioka, T. Shimazu, T. Kobayashi, Y. Okumura, I. Choi, M.Oarada, E. M. Mills, S.Teshima-Kondo, S. Takeda, E. Tanaka, K. Tanaka, M.Sokabe, and T.Nikawa (2018)
Am J Physiol Cell Physiol. In Press.