Diaminofluorescein-2 (DAF-2)
Add to Wishlist
Add to Compare
| Code No. | Product | Size | Price |
| --- | --- | --- | --- |
| SK1001-01 | Diaminofluorescein-2(DAF-2) | 1mg | $ 521.00 |
Features
Real time observation of NO generated by tissues or cells is available.
Low autofluorescence from the living sample because Diaminofluorescein-2 (DAF-2) is excited by the visible light.
Low damage to the cells because Diaminofluorescein-2 (DAF-2) is excited by the visible light.
Needless to change pH for the measurement because Diaminofluorescein-2 (DAF-2)captures NO and makes fluorescence under neutral pH condition.
High sensitivity and selectivity.
Principle of the measurement
Amino groups of Diaminofluorescein-2 (DAF-2) capture NO, and the DAF-2 makes fluorescence of green light with wave length of 515 nm when it's excited by the light with wavelength of 495 nm.
Contents
DAF-2 1mg (in 0.55 mL DMSO) C20H14N2O5          Mw:362.3
Preparation of the reagent
Density of the provided sample is 5mmol/L in DMSO. Dilute 500 times with neutral buffer before use.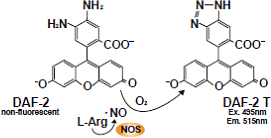 Reference
Masaki Matsuoka, Ashutosh Kumar, Muhammad Muddassar, Akihisa Matsuyama, Minoru Yoshida, and Kam Y. J. Zhang  (2017)
J. Chem. Inf. Model., 57:203–213, DOI: 10.1021/acs.jcim.6b00649
Giuseppe Pezzotti, Elia Marin, Tetsuya Adachi, Alfredo Rondinella,Francesco Boschetto, Wenliang Zhu, Nobuhiko Sugano, Ryan M. Bock,Bryan McEntire & Sonny B. Bal (2017)
Scientific Reports 7:44848
Miller EW, Chang CJ. Curr Opin Chem Biol. 2007 Dec;11(6):620-5. Epub 2007 Nov 9.
Bryan NS, Grisham MB. Free Radic Biol Med. 2007 Sep 1;43(5):645-57. Epub 2007 Apr 29.
Doctor A, Platt R, Sheram ML, Eischeid A, McMahon T, Maxey T, Doherty J, Axelrod M, Kline J, Gurka M, Gow A, Gaston B. Proc Natl Acad Sci U S A. 2005 Apr 19;102(16):5709-14. Epub 2005 Apr 11.
Tarpey MM, Wink DA, Grisham MB. Am J Physiol Regul Integr Comp Physiol. 2004 Mar;286(3):R431-44.
Speyer CL, Neff TA, Warner RL, Guo RF, Sarma JV, Riedemann NC, Murphy ME, Murphy HS, Ward PA. 
Am J Pathol. 2003 Dec;163(6):2319-28.
Lebuffe G, Schumacker PT, Shao ZH, Anderson T, Iwase H, Vanden Hoek TL.
Am J Physiol Heart Circ Physiol. 2003 Jan;284(1):H299-308. Epub 2002 Sep 26.
Zhang X, Kim WS, Hatcher N, Potgieter K, Moroz LL, Gillette R, Sweedler JV.
J Biol Chem. 2002 Dec 13;277(50):48472-8. Epub 2002 Oct 4.
Espey MG, Thomas DD, Miranda KM, Wink DA. Proc Natl Acad Sci U S A. 2002 Aug 20;99(17):11127-32. Epub 2002 Aug 12.
Weiss N, Zhang YY, Heydrick S, Bierl C, Loscalzo J.
 Proc Natl Acad Sci U S A. 2001 Oct 23;98(22):12503-8. Epub 2001 Oct 16.
Espey MG, Miranda KM, Thomas DD, Wink DA. J Biol Chem. 2001 Aug 10;276(32):30085-91. Epub 2001 Jun 12.
Kuo RC, Baxter GT, Thompson SH, Stricker SA, Patton C, Bonaventura J, Epel D. Nature. 2000 Aug 10;406(6796):633-6.
Nakatsubo N, Kojima H, Kikuchi K, Nagoshi H, Hirata Y, Maeda D, Imai Y, Irimura T, Nagano T. FEBS Letters,427,263-266, 1998.
Kojima, H., Nakatsubo, N., Kikuchi, K., Kawahara, S., Kirino, Y.,Nagoshi,H., Hirata, Y., and Nagano, T. Anal. Chem. 70 2446-2453, 1998.