Diaminofluorescein-FM diacetate (DAF-FM DA)
Out of stock
Add to Wishlist
Add to Compare
Code No.
Product
Size
Price
SK1004-01
Diaminofluorescein-FM diacetate
(DAF-FM DA)
1mg
$ 506.00
Features
High fluorescence intensity even at low pH (around pH 6) conditions.
Permeable through the cell membrane and real time observation of NO inside tissues or cultured cells is available.
Long time localization inside the cell.
Easily observed by a fluorescence microscopy.
Low damage to the cells because the reagent is excited by the visible light.
High sensitivity and selectivity.
Principle of measurement
After the permeation through the cell membrane, DAF-FM DA is hydrolyzed by intracellular esterase to DAF-FM which is unpermeable through the cell membrane. Amino groups of DAF-FM capture NO, and the DAF-FM makes fluorescence of green light with wave length of 515 nm when it's excited by the light with wavelength of 500 nm.
Contents
DAF-FM DA 1mg (in DMSO 0.4 mL)
C25H18F2N2O7 Mw:496.42
Preparation of  the reagent
Density of the provided sample is 5 mmol/L in DMSO. Dilute 500 times with neutral buffer before use.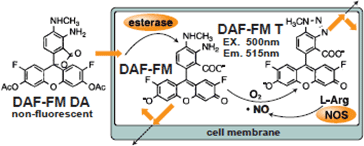 Reference
L. B. Vong, T. Q. Bui, T. Tomita, H. Sakamoto, Y. Hiramatsu,Y. Nagasaki (2018)
Biomaterials.167:143-152. doi: 10.1016/j.biomaterials.2018.03.023
M. Ando, T. Matsumoto, K. Taguchi, T. Kobayashi (2017)
Free Radical Biology and Medicine 112:553-566, DOI:10.1016/j.freeradbiomed.2017.08.027
R. Furuta, N. Kurake, K. Ishikawa, K. Takeda, H. Hashizume, H. Tanaka, H. Kondo, M. Sekine, M. Hori (2017)
Plasma Processes and Polymers, DOI: 10.1002/ppap.201700123
Kiwamu Hyodo, Kenji Hashimoto, Kazuyuki Kuchitsu, Nobuhiro Suzuki,Tetsuro Okuno (2017)
Proc. Natl. Acad. Sci. USA 114: E1282–E1290, DOI: 10.1073/pnas.1610212114
Chen C, Jiang J, Lü JM, Chai H, Wang X, Lin PH, Yao Q.
Am J Physiol Heart Circ Physiol. 2010 Jul;299(1):H193-201. doi: 10.1152/ajpheart.00431.2009. Epub 2010 Apr 30.
Chen C, Chai H, Wang X, Jiang J, Jamaluddin MS, Liao D, Zhang Y, Wang H, Bharadwaj U, Zhang S, Li M, Lin P, Yao Q.
Blood. 2008 Oct 15;112(8):3205-16. doi: 10.1182/blood-2008-03-143479. Epub 2008 Jul 24.
Keitel V, Reinehr R, Gatsios P, Rupprecht C, Görg B, Selbach O, Häussinger D, Kubitz R.
Hepatology. 2007 Mar;45(3):695-704.
Barraud N, Hassett DJ, Hwang SH, Rice SA, Kjelleberg S, Webb JS.
J Bacteriol. 2006 Nov;188(21):7344-53.
Sarath G, Bethke PC, Jones R, Baird LM, Hou G, Mitchell RB.
Planta. 2006 May;223(6):1154-64. Epub 2005 Dec 21.
Balcerczyk A, Soszynski M, Bartosz G.
Free Radic Biol Med. 2005 Aug 1;39(3):327-35. Epub 2005 Apr 9.
Davidson SK, Koropatnick TA, Kossmehl R, Sycuro L, McFall-Ngai MJ.
Cell Microbiol. 2004 Dec;6(12):1139-51.
Patzak A, Lai EY, Mrowka R, Steege A, Persson PB, Persson AE.
Kidney Int. 2004 Nov;66(5):1949-58.
Zeidler D, Zähringer U, Gerber I, Dubery I, Hartung T, Bors W, Hutzler P, Durner J.
Proc Natl Acad Sci U S A. 2004 Nov 2;101(44):15811-6. Epub 2004 Oct 21.
Li N, Sul JY, Haydon PG.
J Neurosci. 2003 Nov 12;23(32):10302-10.
Zhang C, Czymmek KJ, Shapiro AD.
Mol Plant Microbe Interact. 2003 Nov;16(11):962-72.
Mabuchi T, Matsumura S, Okuda-Ashitaka E, Kitano T, Kojima H, Nagano T, Minami T, Ito S.
Eur J Neurosci. 2003 Apr;17(7):1384-92.
Leckie C, Empson R, Becchetti A, Thomas J, Galione A, Whitaker M.
J Biol Chem. 2003 Apr 4;278(14):12247-54. Epub 2003 Jan 22.
Itoh Y, Ma FH, Hoshi H, Oka M, Noda K, Ukai Y, Kojima H, Nagano T, Toda N.
Anal Biochem. 2000 Dec 15;287(2):203-9.
Kojima H, Hirata M, Kikuchi K, Kudo Y, Nagano T Journal of Neurochemistry,2001; 76: 1404-1410
Kojima H, Urano Y, Kikuchi K, Higuchi T, Hirata Y, Nagano T Angew Chem Int Ed 1999; 38: 3209-3212