CaTM-3 AM
Add to Wishlist
Add to Compare
| Code No. | Product | Size | Price |
| --- | --- | --- | --- |
| GC507 | CaTM-3 AM | 40 nmol × 5 | $ 380.00 |
Red fluorescent probe suitable for multicolor imaging with GFP, etc.
Sensitive detection of calcium ion.
Improved intracellular distribution compared to that with CaTM-2 AM enables more accurate visualization of intracellular calcium concentration changes.
CaTM-3 AM is a red fluorescent calcium indicator. Fluorescence intensity of this fluorescent probe reversibly changes depending on Ca2+ concentration. It has red fluorescence with maximum emission at 609 nm (Excitation 590nm) and is suitable for detection of micromolar- to submicromolar-range calcium ions.
Cell permeable CaTM-3 AM is hydrolyzed by intracellular esterases to become soluble CaTM-3 which equally distributes in the cytoplasm. This feature enables detection of intracellular calcium concentration changes with superior accuracy compared to other calcium indicators.
Features of CaTM-3 AM
Absmax 595 nm
FLmax 609 nm
Kd (Ca2+) 0.19 μM
Φ 0.37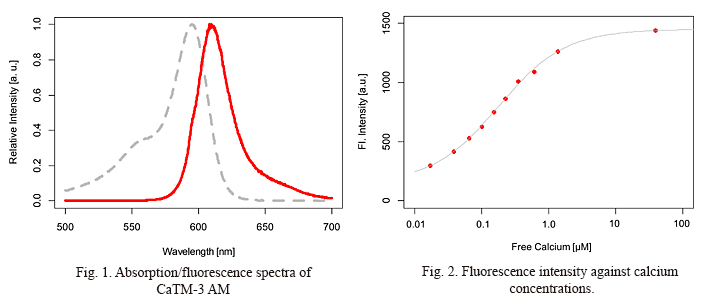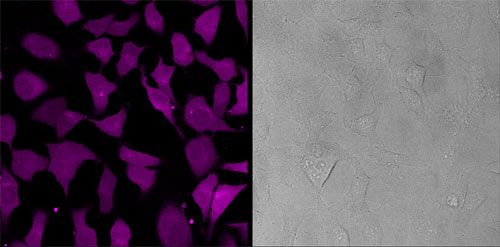 Fig. 3. Uniform distribution in cells
HeLa cells were loaded with 3 μM of CaTM-3 dissolved in HBSS at 37oC for 30 minutes. Without addition of detergent such as Pluronic F-127, the probe uniformly distributes within the cells. Left fluorescence image of 610-680 nm wavelength was obtained with 590 nm excitation. Right, DIC image.

Fig. 4. Visualization of intracellular calcium ion changes induced by stimuli.
CaTM-3 (3 μM CaTM-3 AM in HBSS) loaded HeLa cells were stimulated with 1 μM of histamine to induce calcium oscillation. 3 minutes later, the cells were also stimulated with 5 μM of ionomycin to induce calcium influx to the cytoplasm.
Table 2. Comparison between red calcium probes
CaTM-3 AM
CaTM-2 AM
Rhod-2 AM
Fura-Red AM
Rhod-4 AM
Absmax
(nm)
595
597
549
435
530
FLmax
(nm)
609
609
578
639
555
Kd(Ca2+)
(μM)
0.19
0.2
0.57
0.4
0.53
quantum yield
0.37
0.39
0.03
0.013
localization
cytoplasm +
nucleus
cytoplasm
mitochondria
cytoplasm
(concentrated
in
mitochondria
in some cells§)
additives
not required
in many
cases*
Pluronic
F-127
Pluronic
F-127
Pluronic
F-127
Pluronic
F-127
*Has been tested in HeLa, COS7, A549, CHO-k1, MCF-7, NIH 3T3, HEK293 cells. For the dye loading to rat hippocampal slice, addition of Pluronic F-127 and 0.005% Cremophor EL gave better results.
§In cases of A549, NIH 3T3,COS7 cells.
※Figs. 1-4 data were obtained by Mr. Shodai Takahashi (Graduate School of Pharmaceutical Sciences, University of Tokyo). We are grateful to Dr. Kenjiro Hanaoka (Graduate School of Pharmaceutical Sciences, University of Tokyo) with his support and advices for the commercialization of this product.
Reference
M. Kawatani, M. Kamiya, H. Takahashi, Y. Urano(2018)
Bioorganic Medicinal Chem. Lett. 28: 1–5DOI: 10.1016/j.bmcl.2017.11.030
Hirabayashi K, Hanaoka K, Egawa T, Kobayashi C, Takahashi S, Komatsu T, Ueno T, Terai T, Ikegaya Y, Nagano T, Urano Y. (2016) Cell Calcium 60 256-265
You tube
Please watch a movie showing calcium oscillation of HeLa cells stimulated with 1 μM histamineat YouTube.